Caravelle Tours is specialized in organizing Pilgrimages and religious group tours. Having worked closely with a large number of Parishes and Churches throughout the U.S., we feel we know how to create a well organized, comprehensive religious group tour which will provide travelers with unforgettable memories. We work closely together with the group leaders, often the priest of the parish that we are sending on a trip. All our pilgrimages and group tours are based on highly customized itineraries guided by our expertise as a tour operator.
As most of our religious tours are organized in cooperation with a certain parish, we cannot offer them to the public. However, we are always delighted to organize a religious group tour upon request. If you would like to arrange a group trip, please contact us directly.
If you are a Diocesan Director or Priest and would like to organize a religious tour, please view below a glimpse of our many proposed itineraries. Get in touch to learn more and allow us to craft an itinerary that perfectly reflects your preferences and needs.
(Overnights: 2 Lourdes, 1 Nevers, 1 Lisieux and 3 Paris)
Day 1: HOME/LOURDES
Depart from the home airport for a U.S. gateway city then board your overnight flight to Europe.  Dinner and breakfast will be served on board. (M)
Day 2: LOURDES
Arrive at the European gateway city and board the short connection flight to Lourdes.  Upon arrival, clear immigration and customs and meet your tour guide who will escort you to the coach.  Reach the hotel in Lourdes, settle in and adjust to the new time before dinner which will be served at the hotel.  After dinner you may wish to join the Blessed Sacrament Procession (April-October only), lit by candlelight and guided by the Most Holy Rosary. (D)
Day 3: LOURDES
Experience your faith grow and share in the journey of pilgrims from all over the world, accompanied by the tour leader throughout your stay in the village of Our Lady's apparitions.  In Lourdes, attend Mass at the Grotto where Our Lady appeared to Bernadette; drink and bathe in the water from the miraculously healing spring; meditate upon the life-size Stations of the Cross that represent His passion and resurrection.  Walk in the footsteps of St. Bernadette by visiting Boly Mill, the birthplace of St. Bernadette, and the "Cachot", an abandoned prison where Bernadette's impoverish family lived. (B, D) 
Day 4: LOURDES/PARIS/NEVERS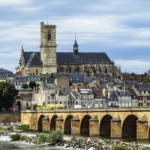 After breakfast, transfer to the airport for your short flight to Paris.  Upon arrival in Paris, visit and celebrate Mass at the splendid Sacre Coeur Basilica, dedicated to the Sacred Heart of Jesus and containing the stunning mosaic of the Risen Christ, the noteworthy Grand Organ, and the Crypt that contains the Tombs of many notable Cardinals.  Climb the staircase to the Dome and take in a breathtaking panoramic view of the city of Paris.  After free time or lunch, ride through the picturesque Loire Valley to Nevers, the city where St. Bernadette lived for twelve years as a member of the Congregation of the Sisters of Nevers.  Spend some free time at leisure, then join the group in time for dinner at or nearby the hotel. (B, D)
Day 5: NEVERS/LISIEUX
The day starts with a visit to St. Gildard Convent, housing the incorrupt body of St. Bernadette.  Celebrate Mass, then continue to the city of Lisieux, home of St. Therese, known as "The Little Flower of Jesus".  Visit the Basilica of St. Therese, renowned for its magnificent mosaics and stained glass, and St. Therese's family home, Les Buissonets, where her relics, clothing and personal objects are preserved.  Finally, tour the Cathedral of St. Peter, St. There's parish Church; and the Carmelite Convent where she entered in 1888, and is currently buried.  Savor dinner at or near the hotel. (B, D)
Day 6: LISIEUX/MONT SAINT-MICHEL/PARIS
Begin the day by celebrating Mass in Lisieux, then transfer to the Monastery of Le Mont St. Michel, one of the first landmarks to be classified as a UNESCO World Heritage site.  The famous mediaeval walled city is crowned by its gothic abbey and built on a small outcrop surrounded by a magnificent bay that is one of the greatest tidal ranges in Europe, resulting in a breathtaking view.  At the end of the visit, return to Paris in time for dinner which will be served at or near the hotel. (B, D)
Day 7: PARIS
Today, visit and celebrate Mass at the Shrine of Our Lady of the Miraculous Medal, housing the incorrupt body of St. Catherine Laboure.  Afterwards, the sightseeing tour of Paris includes the Gothic Notre Dame Cathedral and the most recognizable symbol of the city of Paris, the Eiffel Tower.  The tour continues to L'Arch de Triomphe, built in honor of those who fought for France, and the famous boulevard of Champ-Elysees.  Take advantage of free time for independent exploration of the City of Love, then enjoy dinner at or nearby the hotel. (B, D)
Day 8: PARIS
The event of the day is a visit to the Louvre Museum, one of the finest in the world home to hundreds of thousands of classic and modern masterpieces, including Leonardo Da Vinci's mysterious Mona Lisa.  The remainder of the day is open for last minute independent sightseeing, shopping or packing, before joining a special Farewell Dinner.  (B, D)
Day 9: PARIS/HOME
This morning, you will be accompanied by your tour leader by motor coach to the airport and assisted with check in formalities to board your flight home.  You will be asking yourself "where did the time go?" (M)
Meal Legend: M:  Meals served on board – B:  Breakfast – L:  Lunch – D:  Dinner
(Overnights: 3 in Athens, 3 on cruise, 1 in Delphi, 1 in Kalambaca and 2 in Thessaloniki)
Day 1:  HOME/ATHENS
Depart for Athens, Greece, on regular scheduled airline service.  Dinner and breakfast will be served on board. (M)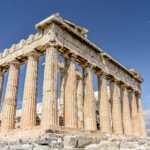 Day 2:  ATHENS
Arrive in Athens and, after clearing immigration and customs, meet the tour leader then board the private motor coach that will take you to the hotel.  Enjoy an included light lunch, then take advantage of free time to settle in and adjust to the new time, before celebrating a Mass of Thanksgiving for a safe arrival.  This evening, a welcoming dinner will be served at or nearby the hotel. (B, L, D)
Day 3:  ATHENS/CORINTH/ATHENS 
After breakfast, a guided tour of the cradle of western civilization will include the UNESCO World Heritage-listed Acropolis with the ruins of the Parthenon, Erectheum and Propylae, universal symbols of the classical spirit and civilization.  Afterwards, ascend Mars Hill, the location of one of Paul's most important gospel presentations at the time of his visit to Athens.  Take in the breath-taking view of the ancient agora, former center of the Athenian public life, then continue for a drive through the city to see the House of Parliament, the Tomb of the Unknown Soldier and the Panathenaic Stadium where the first O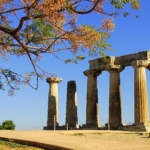 lympic Games of modern times were held in 1896.  The tour ends with the 6th-century BC Temple of Olympian Zeus and the Arch of Hadrian, built to honor the emperor Hadrian.  After an included lunch, reach Corinth, the city where St. Paul preached and lived for two years.  Visit the Church he founded here and that had numerous spiritual problems, then see the Fountain of Peirene whose water was drunk by poets to receive inspiration; the Doric Temple of Apollo and the Bema, the tribunal where Jews brought Paul to be judged by Gallio, before celebrating Mass in the archeological site (weather permitting) and returning to Athens.  Tonight, dinner is on your own. (B, L)
Day 4:  ATHENS/MYKONOS (CRUISE)
This morning, board the cruise and sail from Athens to the quaint island of Mykonos, famous for its windmills. Experience the waterfront lined with shops and cafes and then stroll the charming walkways through a maze of whitewashed buildings before returning to the ship for dinner and evening entertainment. (B, L, D)
Day 5:  KUSADASI/PATMOS (CRUISE)
Docking in Turkey, take part in an included shore excursion of Ephesus, the city of the Bible, once a thriving port town of 250,000 people and nowadays one of the largest restorations still in progress with miles of ancient treasures.  Visit the House of the Virgin Mary, where She may have spent Her last days before Her Assumption. This afternoon, continue to the island of Patmos, under statutory protection as a historic monument.  A sightseeing tour will include the fortified Monastery of St. John and the grotto claimed to be where John received the Revelation.  Back on the ship, enjoy the Captain's dinner before settling in for the night. (B, L, D)
Day 6:  HERAKLION/SANTORINI (CRUISE)
Today the cruise docks in Heraklion, Crete.  There will be the possibility to join an optional tour of the fantastic ruins of the Palace of Knossos, discovered in 1899 and partially reconstructed, believed to be the mythical Labyrinth of King Minos and the seat of ancient Minoan culture.  This afternoon, continue to the island of Santorini, perhaps the most famous of the Greek Islands, and possibly join an optional excursion.  Return to the ship for dinner and evening entertainment. (B, L, D)
Day 7:  ATHENS/DELPHI
This morning, disembark the cruise and begin the discovery of Northern Greece.  Reach Delphi, stopping on the way to celebrate Mass possibly at th
e Church of St. Joseph.  Upon arrival in Delphi, take part in a visit to the ruins of the Sanctuary of Apollo, the most important sacred site in the Greek world.  Located among breathtaking scenery, the Sanctuary was revered as early as 1500 BC and home to the famous Oracle.  Tonight, dinner will be served at the hotel. (B, D)
Day 8:  DELPHI/KALAMBACA
Travel to Kalambaca to enjoy a visit to the stunning Meteora Monasteries, one of the largest and most important complexes of Eastern Orthodox monasteries in Greece, built on natural sandstone rock pillars.  Return to the hotel in time for Mass and dinner. (B, D)
Day 9:  KALAMBACA/BEREA/THESSALONIKI
After breakfast, depart for Thessaloniki, stopping en route in Veria (Berea), where Paul preached for several days after he ran away from Thessalonica in the middle of the night.  From Veria, Paul spread the Word of Christianity.  Upon arrival in Thessaloniki, take part in a guided tour featuring the triumphal Arch of Galerius, erected at the intersection of two major roads shortly before 305 AD to honor the Roman Emperor Galerius; the Church of Agios Dimitrios, dedicate to Saint Demetrius, a Cristian martyr that is also the patron saint of Thessaloniki; and the 15th-century White Tower.  Celebrate Mass, possibly at the Church of Immaculate Conception.  Tonight, dinner will be served at or nearby the hotel. (B, D)
Day 10:  THESSALONIKI/PHILIPPI/KAVALA/THESSALONIKI
The day begins with a visit to Philippi, the city where Paul delivered his first sermon and baptized the first Christian convert in Europe.  See the Roman Forum and the prison where Paul and Silas were incarcerated.  Continue to the port city of Kavala, where Paul landed on his first trip to Europe.  Celebrate Mass, possibly at the Church of St. Paul then return to Thessaloniki in time to savor dinner at or near the hotel. (B, D)
Day 11:  THESSALONIKI/ATHENS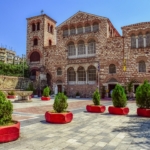 After breakfast, transfer to the airport to board the flight to Athens.  Celebrate Mass, possibly at the Church of Christ the King, then the rest of the day is at your leisure for independent sightseeing and shopping, before joining the group for a special Farewell Dinner.  (B, D)
Day 12:  ATHENS/HOME
This morning, you will be accompanied by your tour leader by motor coach to the airport and assisted with check in formalities to board your flight home.  You will be asking yourself "where did the time go?" (M)
Meal Legend: M:  Meals served on board – B:  Breakfast – L:  Lunch – D:  Dinner
(Overnights: 2 in Bethlehem, 2 in Tiberias and 4 in Jerusalem)
Day 1:  HOME/TEL AVIV                                                       
Departure for Tel Aviv.  Dinner and breakfast will be served on board. (M)
Day 2:  TEL AVIV/BETHLEHEM
Arrival at Ben Gurion Airport in Tel Aviv.  Exiting the baggage claim/customs area, meet your guide and board the motor coach for Bethlehem.  Celebrate a Mass of thanksgiving for a safe trip at the hotel before enjoying dinner. (D)
Day 3:  BETHLEHEM/EIN KAREM/BETHLEHEM
Start the day with a visit of Bethlehem to see the Church of Nativity, where Mass will be celebrated, and to the Shepherds' Fields where the shepherds saw the Star of Nativity.  Continue to the village of Ein Karem, birthplace of John the Baptist, and visit the Church of the Visitation.  Afterwards, travel through the new part of Jerusalem, passing the Knesset and the Hebrew University, to the Israel Museum to see the Shrine of the Book where the Dead Sea Scrolls are kept and where a scale model of Jerusalem, as it was during the Second Temple period.  Return to the hotel in time for dinner.  (B, L, D)
Day 4:  BETHLEHEM/CAESAREA/NAZARETH/CANA/TIBERIAS
Check out of the hotel after breakfast and travel north along the coast to Caesarea, once the capital of the Roman Province, and see Roman and Crusader
remains, and the harbor from which St. Paul was taken prisoner to Rome.  Drive through the Jezreel Valley, passing Megiddo, to Nazareth to see the oldest Church of the Annunciation with Mary's Well and celebrate Mass.  Continue to Cana, the village of Jesus' first miracle, where it will be possible to renew wedding vows.  End the day in Tiberias for overnight and dinner at the hotel.  (B, L, D)
Day 5:  TIBERIAS/CAPERNAUM/MT BEATITUDES/TABGHA/TIBERIAS
This morning take a boat ride across the Sea of Galilee to Capernaum and see the synagogue and St. Peter's House.  Celebrate Mass on the boat.  Afterwards, drive to Mt. Beatitudes where the Sermon on the Mount was given.  Continue to Tabgha to see the mosaic of the Loaves and Fishes, and the nearby Church of Peter's Primacy where Peter was told "feed my lambs, feed my sheep".   Returning from Tabgha, visit the little-known ruins of a Byzantine monastery, built to commemorate Mary Magdalene and explore her importance in the teaching of Jesus.  Return to the hotel in time to enjoy dinner. (B, L, D)
Day 6:  TIBERIAS/MT TABOR/SEBASTIA/JERUSALEM
Drive to Mt. Tabor to see the Church of the Transfiguration, where Mass will be celebrated.  Continue through biblical Samaria to Sebastia, the third capital of Israel.  The prophets denounced the city for its luxurious way of life and divine punishment came when the Assyrians utterly destroyed Samaria in 721 BC and took its 10 tribes as slaves.  Herod the Great called the city "Sebastia Majesty" in honor of Augustus Caesar and the remains of once splendid buildings of the time of Omri, Ahad, Herod and also the Byzantines and Crusaders can be admired there.  Continue to Jacob's Well, dug where Jesus met the Samaritan woman.  Here, He referred to the age-old dispute between the Samaritan and the Jews about the right place to worship God and said the memorable words "They that worship God must worship him in spirit and in truth".  Travel on past biblical Shiloh, Bethel, and Beeroth. Dinner and overnight in Jerusalem. (B, L, D)
Day 7:  JERUSALEM/JERICHO/QUMRAN/DEAD SEA/JERUSALEM
After breakfast, drive through the Wilderness of Judea to Jericho where you can admire the excavation of the oldest city in the world and where Mass will be celebrated. Afterwards visit the traditional Baptismal Site before we continue to enjoy a view of the Mount of Temptation.  Continue to Qumran where the Essene enclave was and see the caves where the Dead Sea Scroll was hidden. Time permitting, take a dip in the healing waters of the Dead Sea.  Dinner and overnight in Jerusalem. (B, L, D)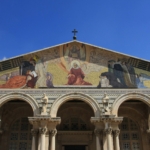 Day 8:  JERUSALEM
This morning we visit the Mount of Olives for a wonderful view of the Old City of Jerusalem.  See the Pater Noster Church.  Follow the Palm Sunday Road stopping at Dominus Flevit, where Jesus wept over Jerusalem.  At the foot of the hill see the Garden of Gethsemane with its ancient olive trees and the Church of All Nations, where Mass will be celebrated.  Visit the Cave of Betrayal and the Cave of the Assumption of Mary to Heaven.  Drive through the Kidron Valley to St. Peter in Gallicantu where Peter denied Him thrice.  At the Cenacle, visit the Upper Room of the Last Supper.  Return to the hotel for dinner. (B, L, D)
Day 9:  JERUSALEM
Very early in the morning, retrace the last steps of Jesus, walking along the Via Dolorosa (Way of Sorrow) through the markets of the Old City, praying the Stations of the Cross, while reflecting on the greatness of His sacrifice.   Celebrate Mass at the Holy Sepulchre then head back to the hotel to enjoy breakfast.  Return to the Old City for a visit to the Church of St. Anne and to view the Wailing Wall then take advantage of some free time for last minute shopping or return to the hotel, possibly to pack and prepare for this evening's special Farewell Dinner.  (B, L, D)
Day 10:  JERUSALEM/HOME
This morning, transfer to Tel Aviv's airport to begin your journey home.  Arrive at destination, in the late evening.  (M)
Meal Legend: M:  Meals served on board – B:  Breakfast – L:  Lunch – D:  Dinner
(Overnights:  2 Siena, 2 Assisi and 5 Rome)
Day 1:  HOME/ROME
Depart from the home city airport on the flight to a gateway city and on to Rome.  Dinner and breakfast will be served on board. (M)
Day 2:  ROME/SIENA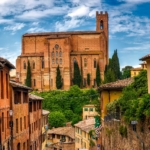 Arrive in Rome and, after clearing customs, meet the tour leader.   Proceed boarding the motor coach and enjoy a drive through the Tuscan countryside to reach Siena.  Utilize the afternoon to unpack and adjust to the new time, then celebrate a Mass of thanksgiving for a safe arrival, possibly at the Cathedral.  Dinner will be served at the hotel. (D)
Day 3:  SIENA/FLORENCE/SIENA
Leave the hotel early to board the coach for an excursion to Florence.  On arrival, begin a guided, walking tour of the city which will include the Academy with Michelangelo's statue "David", the Cathedral of St. Mary of the Flower and Baptistry, the Piazza della Signoria and the Church of Santa Croce, where possibly Mass will be celebrated.  There will be free time afterwards to explore further this Renaissance city.  Stroll past the never ending "gold" boutiques that line the Ponte Vecchio, discover the city's flea market or visit the Uffizi Museum.  Return to Siena and, on the way, stop in the Tuscan hills for an included dinner. (B, D)
Day 4:  SIENA/SAN GIMIGNANO/ASSISI
Begin the day with Mass at the Basilica of San Domenico, holding the remains of the head of Saint Catherine.  Begin here a guided tour, then move on to discover other treasures of Siena, the splendid Cathedral and Piazza del Campo where each year the famous and dangerous "Palio" horse race takes place.   After free time for lunch, continue to San Gimignano, a Tuscan hill-top town, famous all over the world for the skyline of medieval towers.  Continue through the Umbrian countryside referred to as the "green heart" of Italy to reach the peaceful town of Assisi.  Dinner will be served at the hotel. (B, D)
Day 5:  ASSISI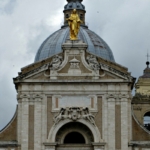 Celebrate an early Mass, possibly at the Tomb of St. Francis.  Afterwards, a guided tour will include the Basilica of St. Francis, the Basilica of St. Clare, St. Francis' birthplace and the Piazza del Comune.  The afternoon is open for those that wish to visit the Church of St. Damiano, the first monastery of the Order of St. Clare.  Another possibility is a hike to the Eremo delle Carceri, the hermitage where St. Francis prayed, surrounded by grottoes where hermits came to dwell and meditate.  Dinner will be served at the hotel. (B, D)
Day 6:  ASSISI/ORVIETO/ROME
After breakfast, depart for yet another lovely Umbrian town, Orvieto.  On the way, stop at the Basilica of St. Mary of the Angels and visit the Porziuncola Chapel.  Once you reach Orvieto, Mass will be celebrated at the Cathedral of Orvieto followed by a visit.  Free time to browse the narrow streets and to grab a quick lunch before departing for Rome.  En route to the hotel, stop at the Catacombs and admire a network of underground cemeteries which are a vivid sign of the origin of Christianity.  Tonight, take a short walk to a nearby restaurant for dinner.  (B, D)
Day 7:  ROME
This morning, celebrate Mass, possibly in the Vatican Grottoes.  Walk to St. Peter's Square to recite the Angelus with Pope Francis and receive the Papal Blessing.  In the afternoon, a guided tour features the massive Colosseum, the incredible excavations of the Roman Forum and the Church of St. Peter's in Chains, housing the statue of Moses by Michelangelo.  Dinner will be served at a restaurant close to your hotel. (B, D)
Day 8:  ROME
Full day discovery of the major basilica's of Rome begins with the Basilica of St. Mary Major, the largest church of Rome, where Mass will be celebrated.  Continue to the Holy Steps, believed to be the actual ones Jesus climbed when He was sentenced to death, and the Cathedral of Rome, St. John Lateran.  After an included lunch, visit the Church of the Holy Cross of Jerusalem, housing the Passion relics brought to Rome from the Holy Land by St. Helena of Constantinople.  The tour ends with the 4th Century Basilica of St. Paul's Outside the Walls, where Mass will possibly be celebrated.  In the evening, explore for another one of Rome's endless restaurants. (B, L)
Day 9:  ROME
Begin the day with a tour of the impressive Vatican Museums.  Walk through some of the most unique rooms and view the works of art of famous artists, theSistine Chapel with Michelangelo's masterpiece "The Last Judgment" and visit the most magnificent of churches, St. Peter's Basilica.  The afternoon is free for independent exploration of the Eternal city.  Some may wish to join an optional tour to Tivoli's Villa d'Este for a visit of Cardinal Ippolito D'Este's summer residence and its famous gardens, marvelous fountains and waterfalls ($125.00 per person, including dinner). (B)
Day 10:  ROME
Begin the day bright and early with a Mass celebration then walk to St. Peter's Square to attend the unforgettable General Papal Audience given by His Holiness Pope Francis.  The rest of the day has been left open for last minute shopping, sightseeing or packing.  In the evening, an "Arrivederci Roma" toast is in order at the Farewell Dinner.  Let the wine flow as you tune in to some of Italy's most famous melodies. (B, D)
Day 11:  ROME/HOME
This morning you will be accompanied by your tour leader to the airport and assisted with check in formality to board the flight home.  You will be asking yourself "where did the time go?" (B, M)
Meal Legend: M:  Meals served on board – B:  Breakfast – L:  Lunch – D:  Dinner
(Overnights: 2 in Lisbon, 3 in Barcelona, 2 in Madrid and 2 in Santiago de Compostela)
Day 1:  HOME/LISBON
Depart for Lisbon, Portugal, on regular scheduled airline service.  Dinner and breakfast will be served on board. (M)
Day 2:  LISBON
Arrive at the Portela Airport in Lisbon.  Go through passport control and meet the tour leader, then board the private motor coach that will take you to the hotel.  Settle in and adjust to the new time.  This afternoon, a Mass of Thanksgiving for a safe arrival will be celebrated in the town of Santarem, at the Church of St. Stephen containing the oldest recorded Eucharistic miracle.  After some free time to explore the town, one of the oldest in the world, return to Lisbon.  Dinner will be served at or near the hotel (B, D)
Day 3:  LISBON/FATIMA/LISBON
This morning, depart for Fatima, the holy place where the Blessed Mary appeared in 1917 to three shepherd children six times.  Upon arrival, visit the Sanctuary of Fatima, whose construction began in 1928; the complex the Little Chapel of the Apparitions and the Basilica where Francisco and Jacinta are bu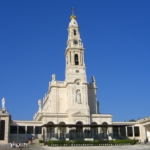 ried. Continue to the Hamlet of Aljustrel, where the children lived, and Valinhos, the site of Our Lady's appearance after the children's return from prison. Follow the Stations of the Cross along the Via Sacra (The Sacred Way) culminating in the Chapel of Calvary, which overlooks all of Fatima.  Celebrate Mass and return to the hotel in time to enjoy dinner. (B, D)
Day 4: LISBON/BARCELONA 
After breakfast, reach Lisbon airport and board your flight to Barcelona.  Upon arrival, transfer to the hotel.  Take advantage of free time to settle in before celebrating Mass.  This evening, a welcoming dinner will be served at or nearby the hotel. (B, D)
Day 5: BARCELONA 
The day begins with a sightseeing tour of Barcelona, featuring the Port,  built 2,000 years ago to protect the city and provide access for ships and goods; Plaza de España, known for its old bull-fighting ring and presently one of the busiest squares in Spain; and Plaza de Catalunya, famous for its majestic fountains and
statues.  The tour continues with a guided walk through the Gothic Quarter and a visit to Antoni Gaudi's unfinished yet stunning Roman Catholic Basilica, La Sagrada Familia.  Lunch and the afternoon are at your leisure, before joining the group for dinner which will be served at or near the hotel. (B, D)
Day 6: BARCELONA/MONTSERRAT/BARCELONA
Today, board the coach to Monserrat, the town of the miraculous Black Madonna carved by St. Luke around 50 A.D., hidden from the Moors and later rediscovered by sheperds.  You will have the opportunity to admire the statue when visiting the Benedictine Abbey of Santa Maria de Montserrat, located on a rugged mountainside.  Afterwards, return to Barcelona in time for dinner at or near the hotel. (B, D)
Day 7: BARCELONA/ZARAGOZA/MADRID
In the morning depart for Zaragoza.  Upon arrival, visit the stunning Basilica del Pilar, built on the site where Our Lady appeared to St. James and housing the pillar that was carried by angels on top of which Our Lady appeared.  Move on to the Cathedral of Zaragoza, containining architectural elements of Gothic, Mudejar, Renaissance and Baroque styles.  Afterwards, join a walking tour of the city and explore its folklore and local gastronomy.  This evening, continue to Madrid and reach the hotel in time for dinner. (B, D)
Day 8: MADRID/TOLEDO/MADRID
Begin the day with a tour of Madrid that includes the Royal Palace where state ceremonies and events are held, and the Plaza Mayor, the geographic an
d social center of the city.  After free time for lunch reach Toledo, known as the City of Three Cultures because the Christians, Jews, and Moors have lived peacefully in this city for centuries.  Upon arrival, visit the Gothic Cathedral, built upon the Great Mosque of Toledo, the Church of Santo Tomé, best known for housing El Greco's most famous painting, and the Sinagoga del Tránsito, famous for its rich stucco decoration.  The tour continues with a visit to the Sinagoga de Santa Maria la Blanca, a former sinagogue now owned and preserved by the Catholic Church, and the Monastery of San Juan de los Reyes.  After some free time in Toledo, return to Madrid and savor dinner at or near the hotel. (B, D)
Day 9: MADRID/SANTIAGO DE COMPOSTELA 
After breakfast, ride the coach through the Spanish countryside and stop at Villafranca del Bierzo to visit the Romanesque Church of Santiago, where the pilgrims who were unable to finish El Camino as a result of an illness would receive the jubilee blessing.  Continue to the Gothic Collegiate Church of Santa María and the church of St. Nicolas, dedicated to the patron Saint of Villafranca del Bierzo.  Afterwards, enter the region of Galicia and reach O Cebreiro, a village nestled in the mountains known for its iconic palloza styles houses and for being the site where a Eucharistic Miracle occurred in 1300.  Finally, reach Santiago de Compostela and enjoy dinner at or near the hotel. (B, D)
Day 10: SANTIAGO DE COMPOSTELA
In the morning, attend the International Pilgrim Mass at the Cathedral of St. James, worldy renowned for being one of the finest architectural examples in Europe as it embraces Romanesque, Gothic and Baroque styles.  A visit to the Cathedral and its crypt where the Patron Saint of Pilgrims' relics are kept will follow.  After free time for lunch, a sightseeing tour of the city includes the Obradoiro Square; Fonseca Palace, the first seat of the University of Santiago; Gemirez Palace, built after the riots that ruined the old Archbishop Palace; and Franco Street, one of the main streets for dining and entertainment in the Old City.   The remainder of the day is open for independent sightseeing and shopping, before joining the group for a special Farewell Dinner at or nearby the hotel.  (B, D)
Day 11:  SANTIAGO DE COMPOSTELA/HOME
This morning, you will be accompanied by your tour leader by motor coach to the airport and assisted with check in formalities to board your flight home.  You will be asking yourself "where did the time go?" (M)
Meal Legend: M:  Meals served on board – B:  Breakfast – L:  Lunch – D:  Dinner